This post brought to you by P.F. Chang's. All opinions are 100% mine.
I've been craving Asian cuisine quite a lot lately, and P.F. Changs has a fresh  new seasonal Fall Seasonal Menu perfect for satisfying my desires.  As you may already know, P.F. Changs is an Asian Fusion restaurant, that brings the added flair of ingredients not typically found in Asian cooking.  For example, the new fall menu includes a quinoa dish, as well as one that features kale, two ingredients very popular with health minded Americans these days.
After browsing the Fall Seasonal Menu, two of the new items particualrly appealed to me. First, the Crispy Korean Chicken Wings.  As you can see in the picture above, these are served in an easy to eat lolipop style, coated in a sweet & spicy red chili sauce and topped with scallions and sesame seeds. Yum!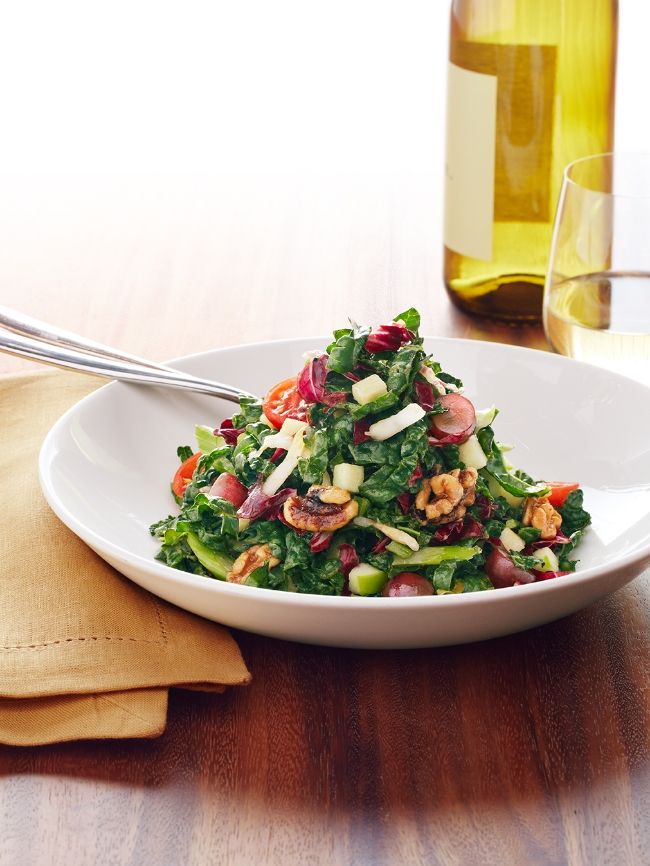 The other new dish that stood out for me was the Shanghai Waldorf Salad.  It is described as so…"Fresh chopped kale, endive, radicchio, crisp apples, grapes, celery, grape tomatoes and candied walnuts tossed in a light miso-lime vinaigrette. "  I love the idea of the bitternes of the radicchio and the tang of dressing contrasting with the sweetness of the apples and grapes.  This is sure to be a step above the common salad.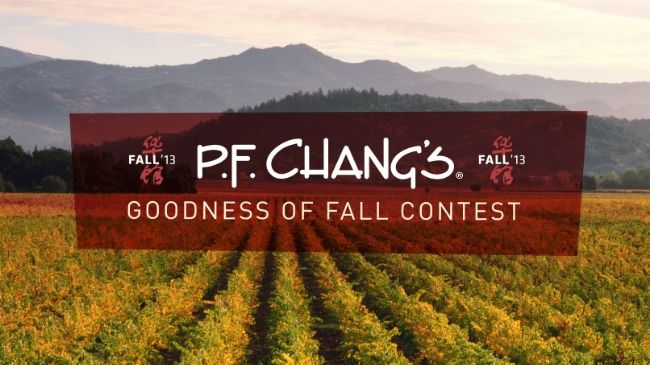 Now for those of us who love to hone our cooking skills and fancy ourselves creative cooks, P. F. Changs has launched The Goodness of Fall Contest.  It is a recipe contest where entrants submit original recipes featuring fall flavors used in the P. F . Changs new Fall Seasonal Menu.  The Grand prize is a Napa Valley Trip & there will be daily prizes of $50 P.F. Changs gift cards.
Each recipe must include 3 of the following ingredients: Flank Steak, Butternut Squash, Corn, Brussels Sprouts, Red Quinoa, Kale, Candied Walnuts, Chinese Broccoli, Asian Mushrooms Green Apples. Daikon Sprouts, Prawns, Fresno Peppers and Scallions.
The 5 top recipes will then be presented to a panel of judges: Philip Chiang, Cofounder of P.F. Chang's; Yuji Iwasa, Head Development Chef at P.F. Chang's; Mary Melton, Director of Beverage at P.F. Chang's; and Jennifer Chong; a prominent blogger partner.
Here is what I came up with for the contest…
Now, I love a cooking challenge, but even if you can't make microwave popcorn without burning it, you should still stop by The Goodness of Fall Contest page.  There is a printable $10 off $40 special offer available on the page.
Make sure to Follow @pfchangs on Twitter to stay up to date on new menu items & promotions that might interest you.  If you liked the culinary eye candy I shared with you above, I advise you to  Follow P.F. Chang's on Pinterest as well.
Now I couldn't very well tease you with pictures of the yummy lunch I had due to my culinary experiments this morning without sharing the recipe now could I?  That just wouldn't be right.

Candied Walnut Shrimp with Green Apple Slaw and Dipping Sauce
Prep time:
Cook time:
Total time:
Candied Walnut Shrimp with Tangy-Spicy Green Apple Slaw and Dipping Sauce
Ingredients
Candied Walnut Prawns
12 large raw prawns
1 cup tapioca flour (corn starch may be substituted)
1 tsp ground ginger (dry)
2 eggs
1½ cups finely chopped candied walnuts
oil for frying
Dipping Sauce
¼ cup low sodium soy sauce
¼ cup rice wine vinegar
2 tsp sugar
½ tsp sesame oil
2 tbs Fresno peppers, cut into thin strips ½" long
Finely sliced scallions
Spicy Green Apple Slaw
1 large green apple, cored & sliced into matchsticks
2 tbs lime juice
1 tbs low sodium soy sauce
1½ tsp sugar
¼ tsp ginger
½ tbs Fresno peppers, thin sliced, ½" long
Instructions
Prepare the dressing and slaw first. Simply combine ingredients and mix.
Peel & de-vein the prawns, leaving tail on, then pat dry with paper towel.
Set out 3 bowls: in first one, mix together tapioca flour & ginger in second beat the two eggs well, put the chopped candied walnuts in the third bowl.
Dredge the prawns in egg, then flour, then egg again, finally in the walnuts. Set aside the prawns once coated.
Heat a ½" of oil in small skillet over med-high. Once hot drop in the prawns 3-4 at a time, don't crowd them. As you see the edges start to become opaque gently flip with a fork and cook another minute. Drain on pastry cooling rack or plate (no towel, they will stick)
Serve prawns on or over apple slaw with dipping sauce on the side. Sprinkle scallions over prawns and into dipping sauce.
Notes
* 2 lunch portions or 4 appetizer portions

If gluten-free soy sauce is used, the recipe is gluten-free.
Which of the new dishes from P.F. Chang's Fall Seasonal Menu are you most excited to try?